The first baseball season I followed from start to finish was in 1972, when I was eight. I remember watching the playoffs in the MLS and National after the regular season ended, and I especially remember the World Championship between the first teams and the Reds (which included what turned out to be Jackie Robinson). Final public appearance before the second game).
What I don't remember, however, are the long gowns that at least two Cincy players wore in the dugout during Game Six in Cincinnati. Reader Tristan Ridgway spotted them while watching it This is a great video (Appears at approximately 31:08.)
In fact, I don't remember Ever Seeing MLBers wearing this type of clothing. I remember seeing some pictures of players wearing long, raincoat-like jackets during cold weather—I think the examples I've seen show all players wearing them at a bullseye—but these Reds ponchos look like rainwear, NFL sidecar-style. heads. At least one of them had a hood!
I did some searching online to see if I could find an old example – no dice. So I asked a group of baseball historians and people associated with Cincinnati (including our "Collector's Corner" columnist Brinkie Guthrie, who said that in fact attended by That World Championship game as a kid!), and all of them said they'd never seen anything quite like the Reds' gowns. But one of the people I asked, Baseball Hall of Fame coordinator Tom Schipper, sent my query to Chris Ecks, the Reds' Hall of Fame Secretary. He replied with this:
The Reds were definitely wearing the kind of coats or jackets Paul remembers seeing other teams wear [in the bullpen]. There were at least two different styles, both made by Wilson: one with the "Cincinnati" script seen in screenshots at the 1972 World Championships, and one with large arched lettering resembling the look of a post-1971 road costume. We have examples of both styles in our collection.

These are quilted but not heavily, which leads me to believe the coats/coats seen in the World Series photos are of the same style/construction as the examples we have. I don't remember seeing anyone Not padded.
Eckes provided the following images of items from the Reds Hall Collection: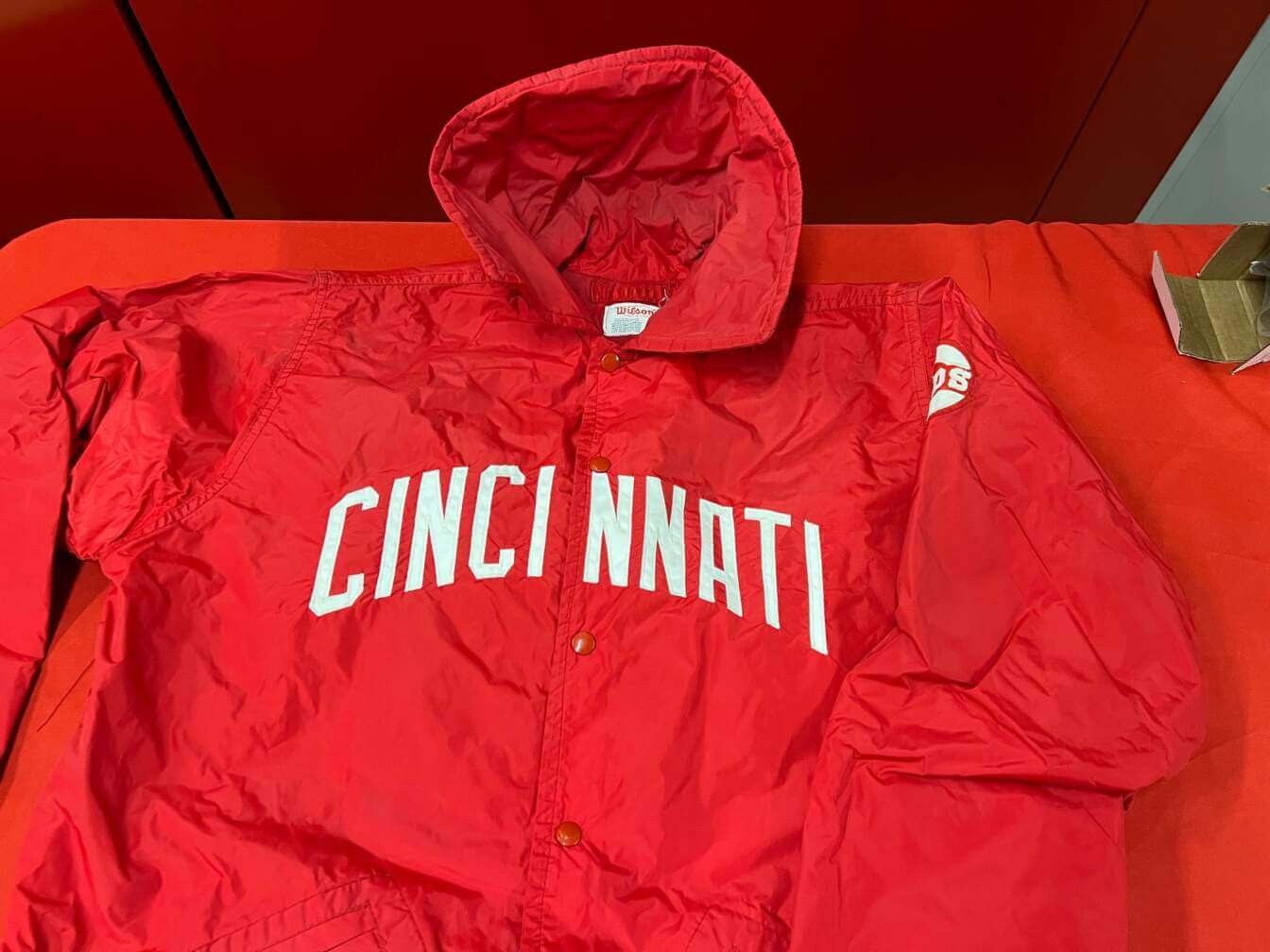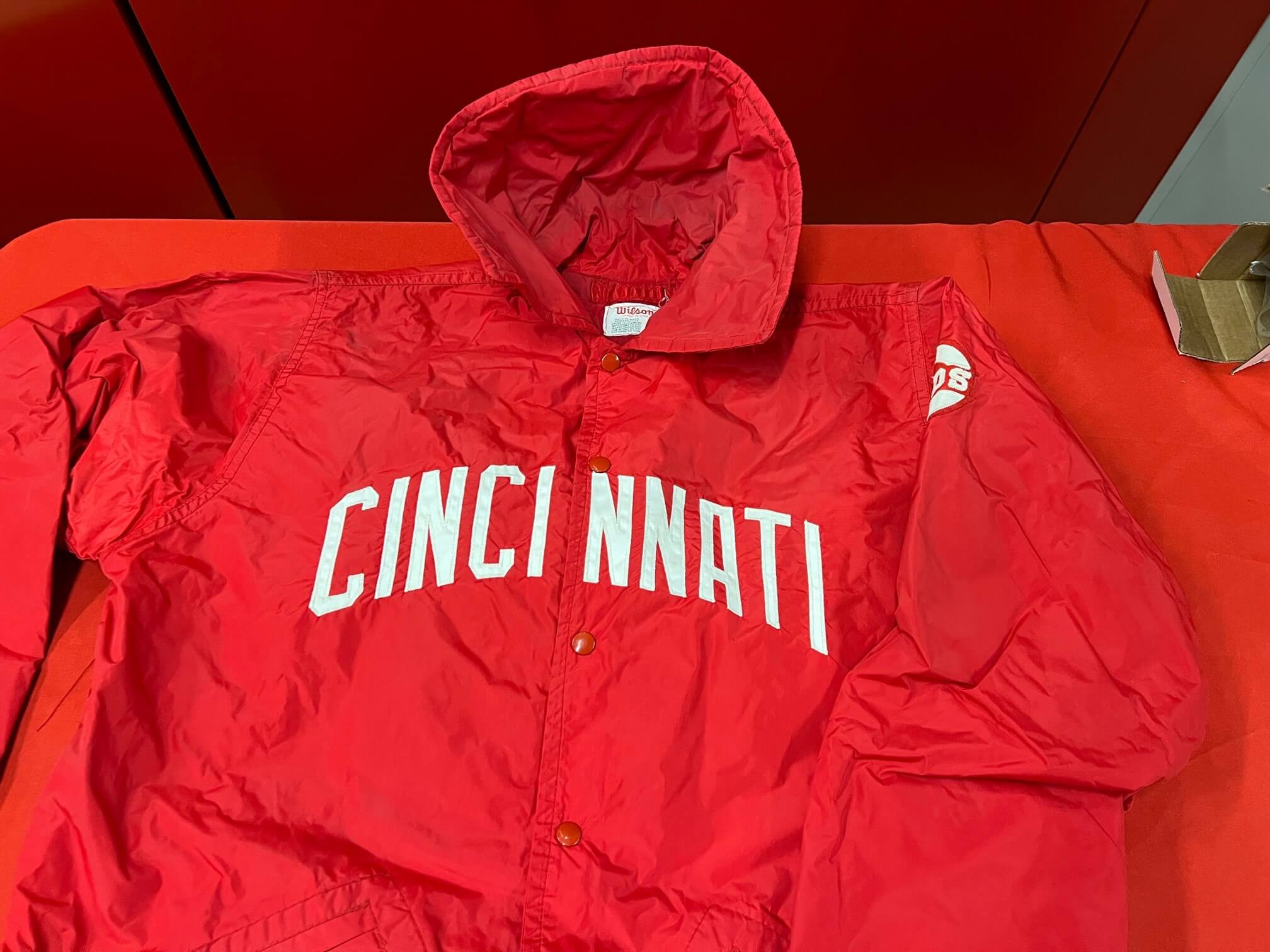 Note that none of these had a hood. In fact, Ecks tells me he's never seen someone in a hoodie. So maybe what I thought was the hood in the 1972 World Championship video was actually the back of the collar. And here's a comparison – the world championship "hood" on the left collar and back of the Reds Hole jacket on the right: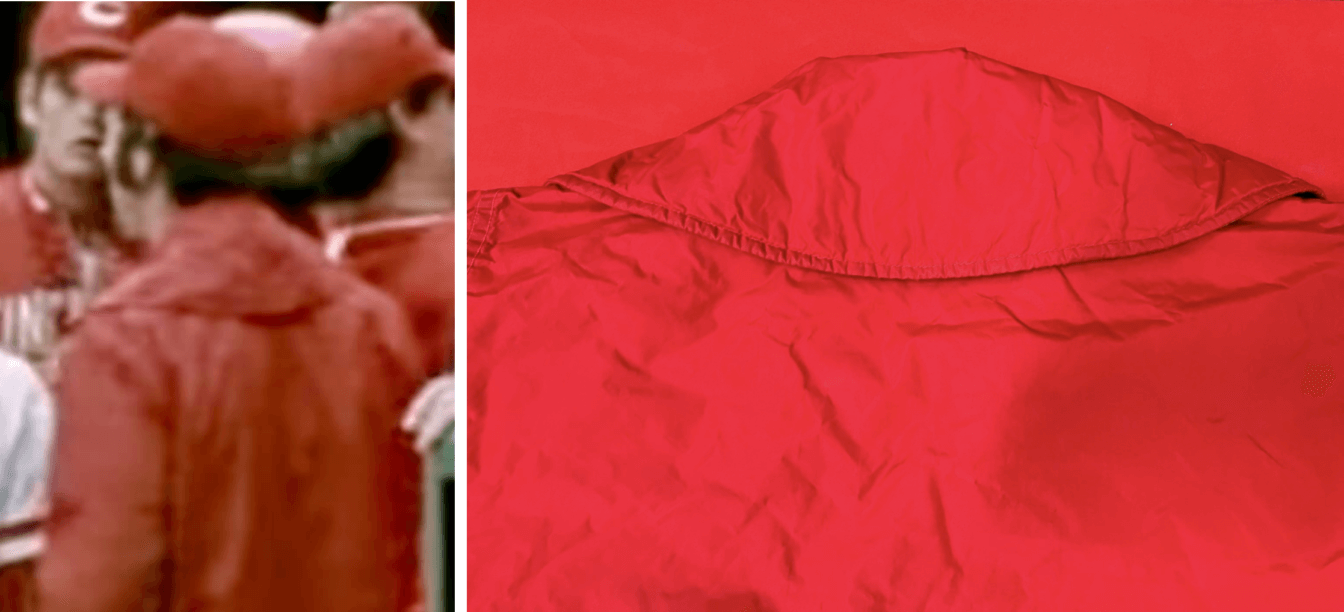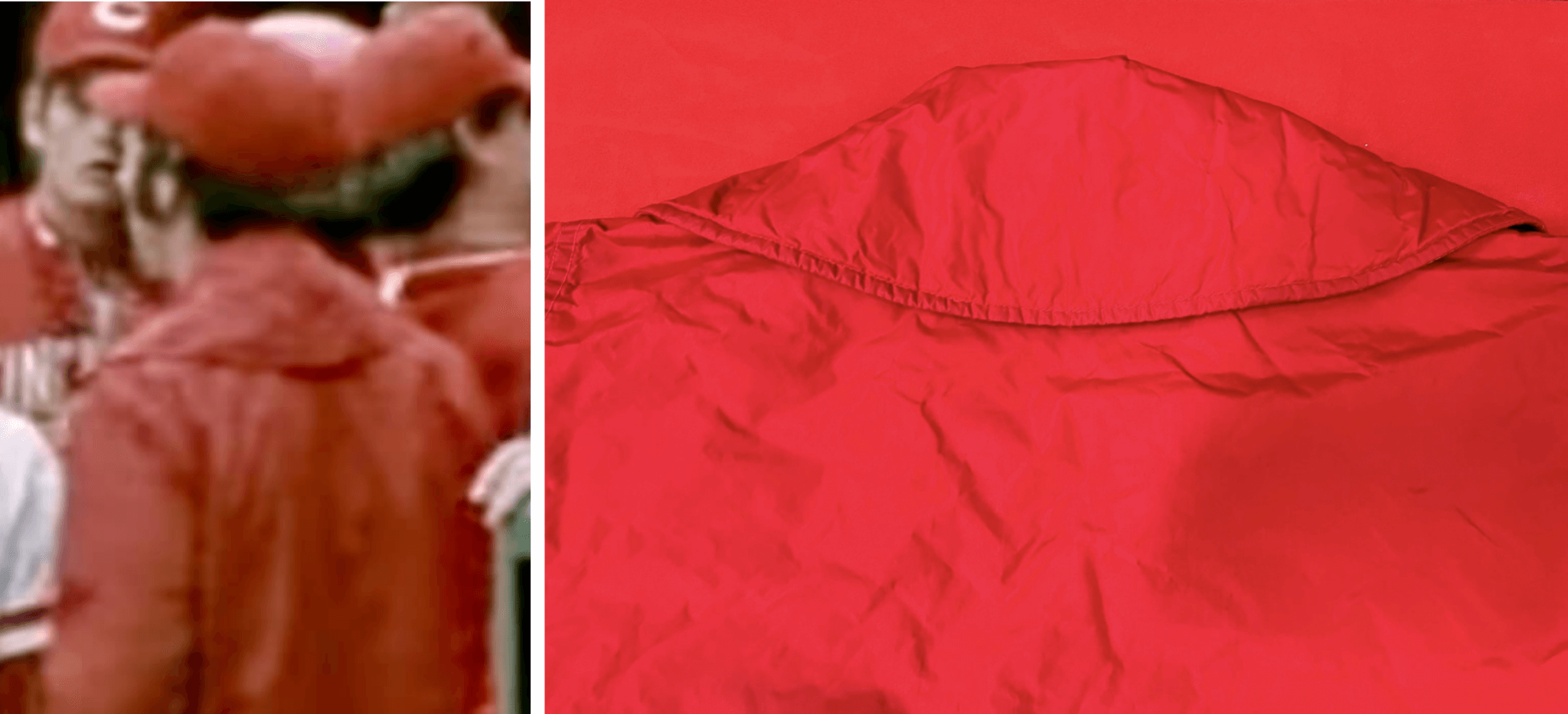 Well, maybe the "hood" was actually just a collar. So, if the Reds were really wearing long jackets, as opposed to rainwear/ponchos, during this World Championship match, it would be the first time I've seen such a garment worn in the dugout instead of a robe. .
Anyway: a fun rabbit hole! And also a good reminder that we're approaching the start of this year's MLB playoffs and the World Championships.
(Many thanks to Tristan Ridgway for bringing the 1972 footage to my attention, as well as to Tom Schipper and Chris Icks for their invaluable assistance with this post.)
It all depends on the way you look at it
At the end of yesterday's post About Brewers House Panel Areayou mentioned that they also use a "dead center" angle to take their photos with the center camera, which I find a bit annoying as it's not what I'm used to seeing.
This prompted comment from reader Ryne Jungling, who directed me towards the video shown above. It analyzes how our perception of different types of pitches (slide, shift, cutter, etc.) is greatly influenced by the orientation of the central camera. Wonderful stuff, highly recommended. Thanks, Rin!
Uni Watch Plus Update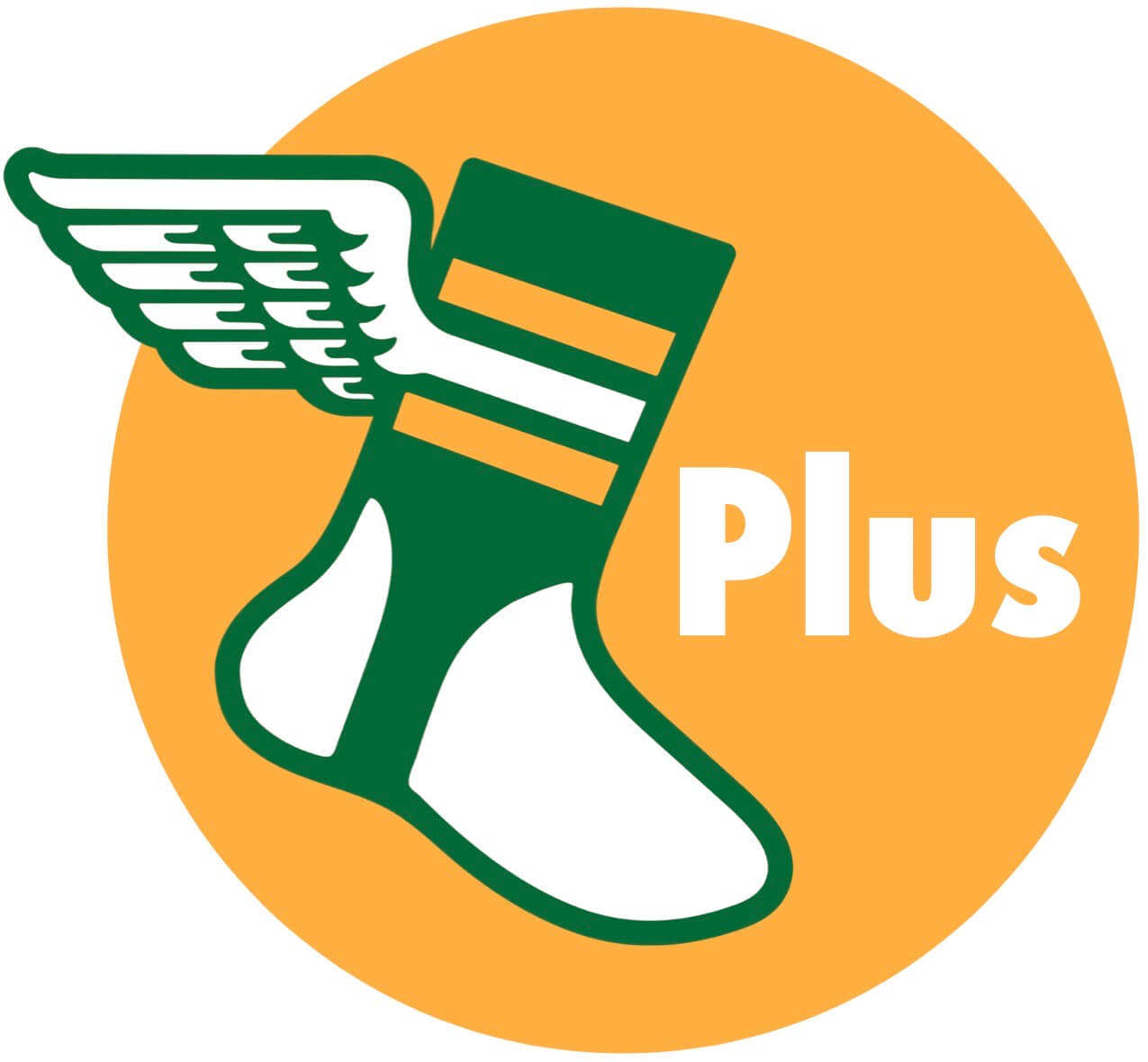 We had 10 recordings at Uni Watch Plus yesterday (thank you!). As promised, I randomly picked one of the newcomers, who turned out to be Mike Mulcahy. He himself has won a Uni Watch award package consisting of the following:
Three Pin Uni Watch
A Uni Watch koozie
Uni Watch Trading Card
Uni Watch Magnet
Set of Three Uni Watch Coasters
I will continue to do so any day we receive at least seven new UW+ subscriptions.
Despite the awards, we would really like to continue growing UW+ comm-uni-ty. So if you enjoy Uni Watch and have the means to help support it, I respectfully ask that you consider it Join UW +. (Want to learn more about UW+? look here.) Thanks!
Contest reminder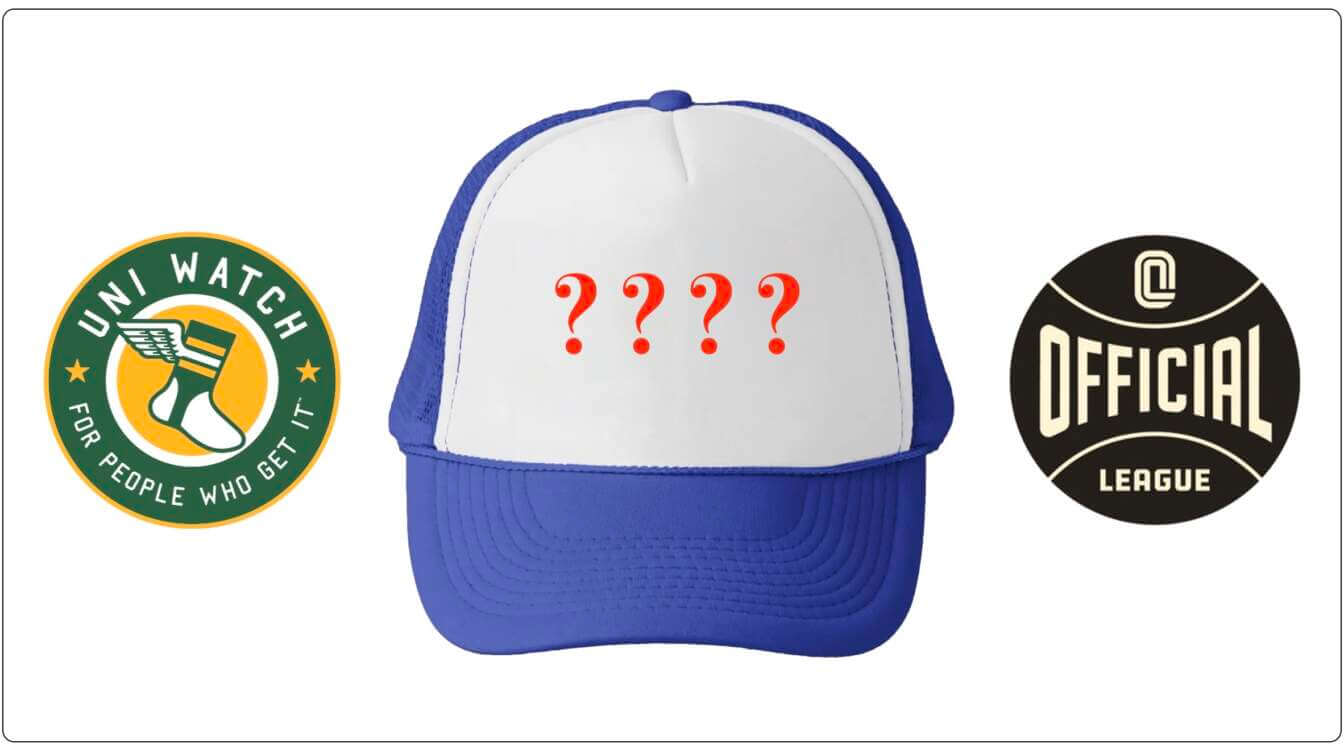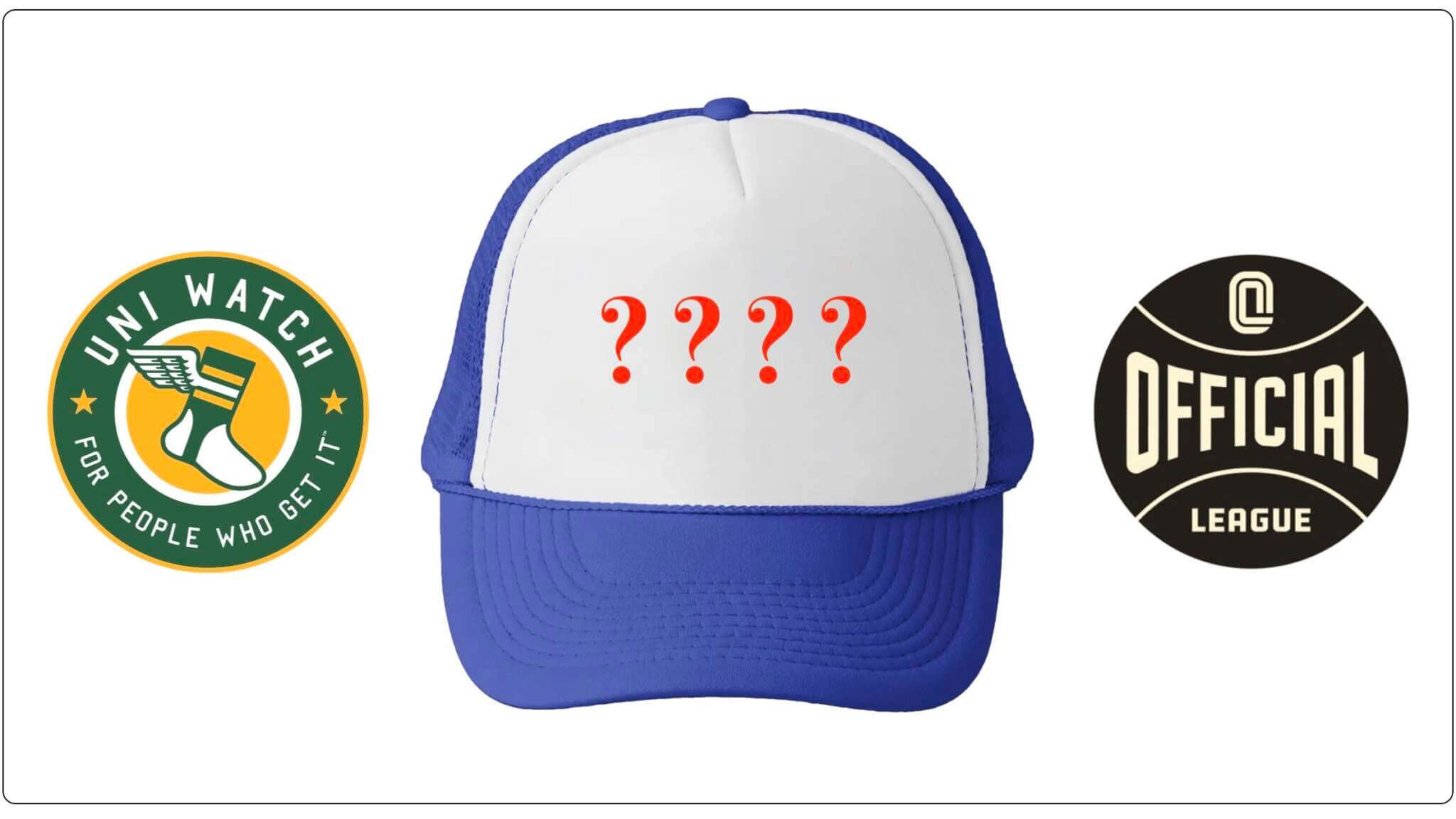 In case you missed it last week, I partnered with the official Brand League for a competition to design an unofficial USMNT hat for the upcoming World Cup. Full details here.